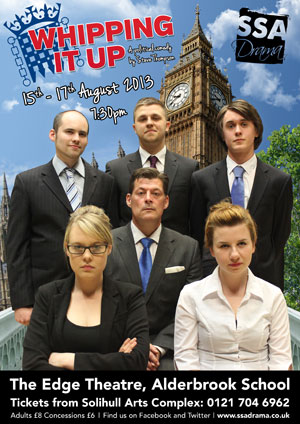 SSA Drama are currently rehearing the hilarious political comedy, Whipping It Up, by Steve Thompson.
This production will play from Thursday 15th – Saturday 17th August 2013 at 7:30pm at The Edge, Alderbrook School.
Tickets are now on sale!
Book now from Solihull Arts Complex on 0121 704 6962 or from their website.
Adults £8 Concessions £6. 
"Everything they say is true, then? Black ties; cigar smoke; whisky in cutglass. Westminster runs the country. But the Whips run Westminster."
It's a week before Christmas, and the new Tory government is facing dissent over its latest Bill. With a majority of only three, the Whips' office is out in full force, and they'll stop at nothing to keep the strays in line. But they're in for a long night: boy scouts are rioting in Whitehall, the PM's golfing with the President, five Tory rebels are on the loose and the Chief Whip's playing at Santa – could this be the beginnings of a leadership challenge?
Chief – Simon King
Alastair – Matt Barnard
Tim – Elliot Sayers
Guy – Stephen Head
Delia – Sarah Jones
Maggie – Emma Doran
Directed by Chris Cooper, assisted by Beth Hughes.
Keep up with all the latest behind-the-scenes action for Whipping It Up on Facebook and Twitter.