SSA Drama's annual hilarious family pantomime, Jack and the Beanstalk comes to The Dovehouse Theatre, Langley School in January 2022. Dates and tickets will be announced soon!
Due to COVID-19 restrictions, productions have been put on hold. However, we are holding some workshops for young people aged 8 – 17 during term time. If you are interested, email hello@ssadrama.com to find out more.
Take a look at the SSA Drama website, ssadrama.com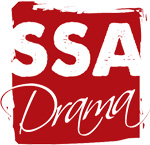 Formed in 1944 as one of the original three sections of the Solihull Society of Arts, the Drama Section has been performing ever since! Recent productions include Dick Whittington, Aladdin, The Wind in the Willows, Lord of the Flies, The Ladykillers, Romeo and Juliet and the amateur premiere of Jerusalem.
We are always on the look out for new members, so whether you're an actor, director, lighting designer, stage manager or just general theatre enthusiast, please get in touch.
For more information, email us or find us on Facebook and Twitter.