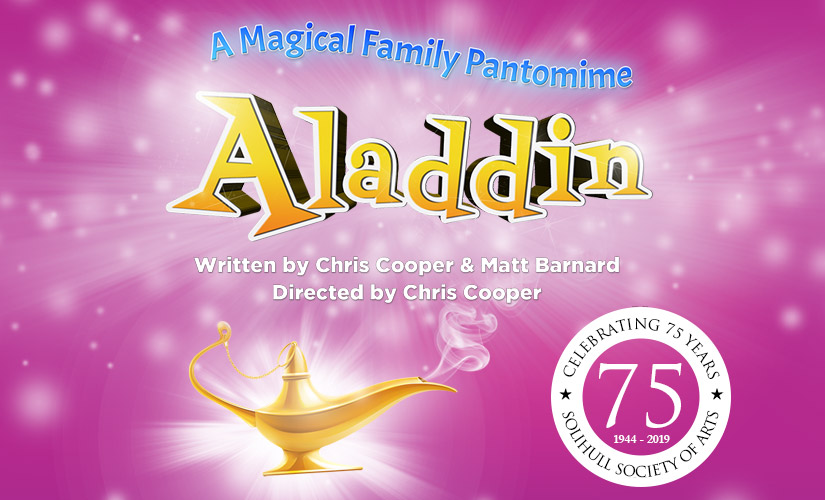 SSA Drama present the magical pantomime adventure, Aladdin from Thu 17 – Sat 19 Jan 2019 at The Dovehouse Theatre. Book now!
Jump aboard a magic carpet and see the return of our annual pantomime! Join Aladdin, his brother Wishee Washee and his mother Widow Twankey on a spectacular adventure. Will he find the Magic Lamp? And if he does, will the power it holds help him to foil wicked Abanazar and wed Princess Jasmine?
As we celebrate our 75th year creating theatre in Solihull, Aladdin is the perfect festive treat for all the family.
Please find us at our new website, ssadrama.com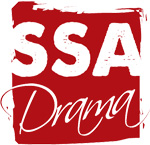 Formed in 1944 as one of the original three sections of the Solihull Society of Arts, the Drama Section has been performing ever since! Recent productions include The Wind in the Willows, Lord of the Flies, The Ladykillers, Romeo and Juliet and the amateur premiere of Jerusalem. We're thrilled to return to presenting our annual traditional pantomime in 2019 after a break of several years, with Aladdin set to get the 'SSA treatment'.
We are always on the look out for new members, so whether you're an actor, director, lighting designer, stage manager or just general theatre enthusiast, please get in touch.
For more information, email us or find us on Facebook and Twitter.
Current Season
17 – 19 Jan 2019 – Aladdin, directed by Chris Cooper
Past Productions
2018
23 – 25 Aug 2018 – The Wind in the Willows, directed by Chris Cooper
2017
29 Aug – 1 Sep 2017 – Lord of the Flies, directed by Ricardo Alexander & Andrew Exeter
22 – 24 Feb 2017 – Caught On The Hop, directed by Chris Cooper & Pete Bayliss
2016
23 – 26 Aug – The Recruiting Officer, directed by Jack Bushell & Emma Benton
31 May – 3 Jun – The Ladykillers, directed by Kim Bradshaw
2015
28 Nov – One Night, co-ordinated by Kim Bradshaw & Charlie Smith
19 – 22 Aug – Waiting For Godot, directed by Thom Faulkner
12 – 15 Aug – The Importance of Being Earnest, directed by Bethany Hughes
27 – 30 May – Wuthering Heights, directed by Charlie Smith
2014
3 – 6 Dec – Peter Pan or The Boy Who Would Not Grow Up, directed by Chris Cooper
5 – 9 Aug – A Midsummer Night's Dream, directed by Thom Faulkner & Bethany Hughes
15 – 18 Jan – Sleepy Beauty, directed by Sarah Jones
2013
15 – 17 Aug – Whipping It Up, directed by Chris Cooper
29 May – 1 Jun – Romeo and Juliet, directed by Thom Faulkner
15 – 19 Jan – Jack and the Beanstalk, directed by Kate Hendry
2012
29 – 31 Aug – The Bald Prima Donna, directed by Thom Faulkner and The Bear, directed by Steve Carey
6 – 9 Jun – Hamlet, directed by Thom Faulkner
18 – 21 Jan – Cinderella, directed by Steve Carey
2011
30 Aug – 2 Sep – Jerusalem, directed by Thom Faulkner